Description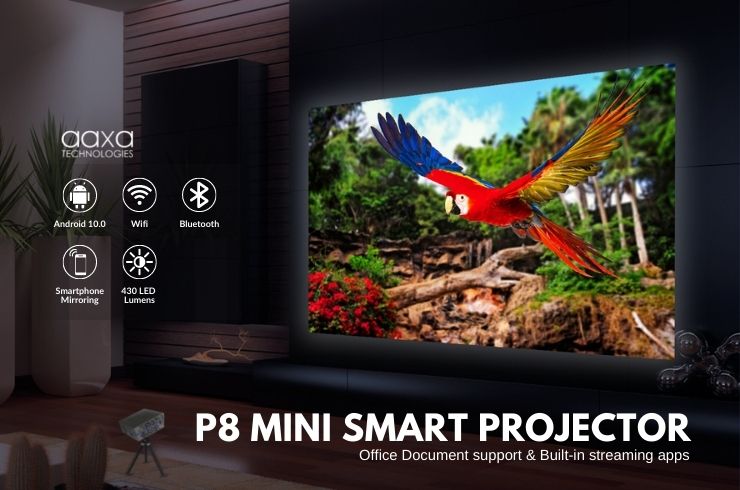 The AAXA P8 is a smart projector featuring an Android 10 operating system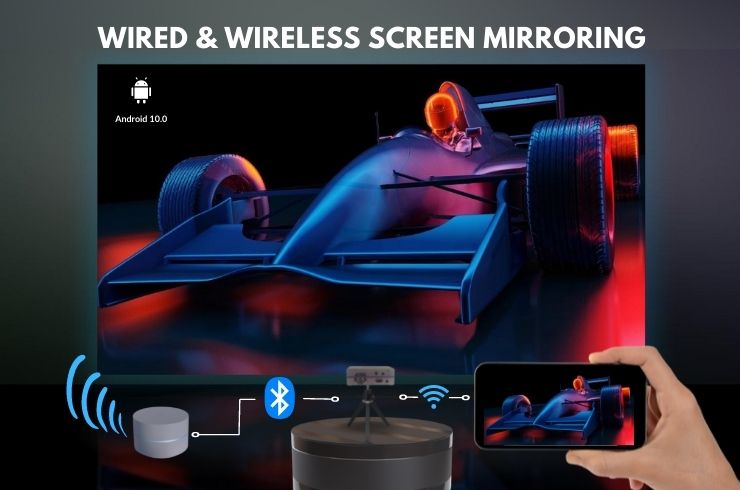 The P8 incorporates wireless screen mirroring as well as a Bluetooth connection for external speakers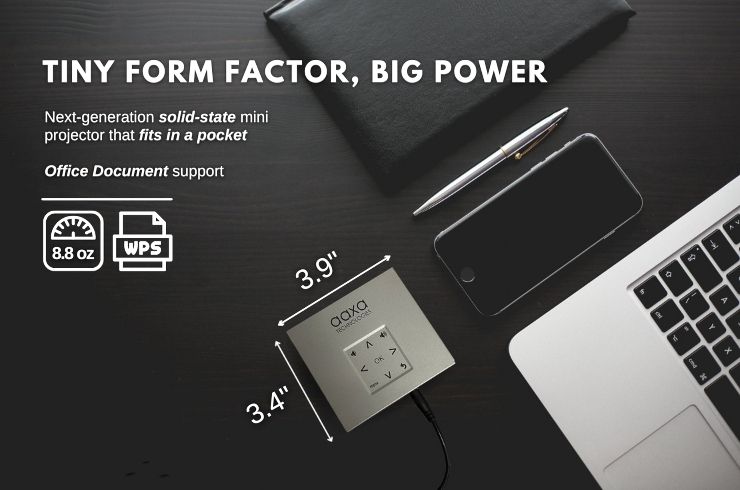 The P8 is tiny weighing in at just 8.8oz and only slightly larger than a smartphone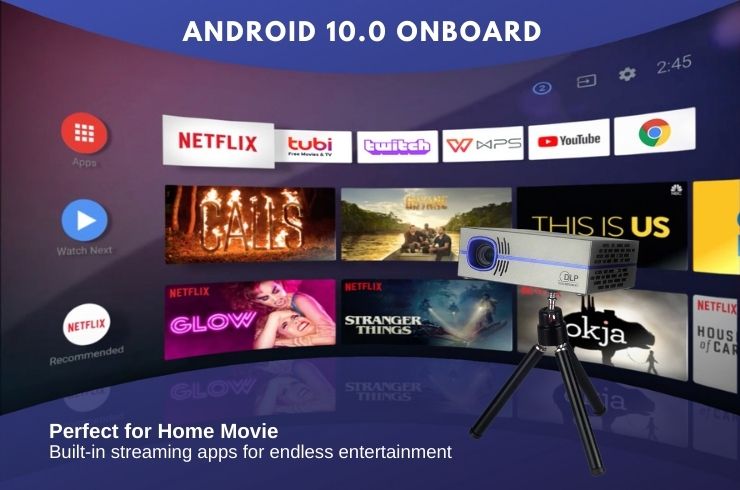 The AAXA P8 features streaming apps including YouTube, Netflix, Twitch (some DMCA copyright apps are not supported like Hulu, Disney Plus, etc.)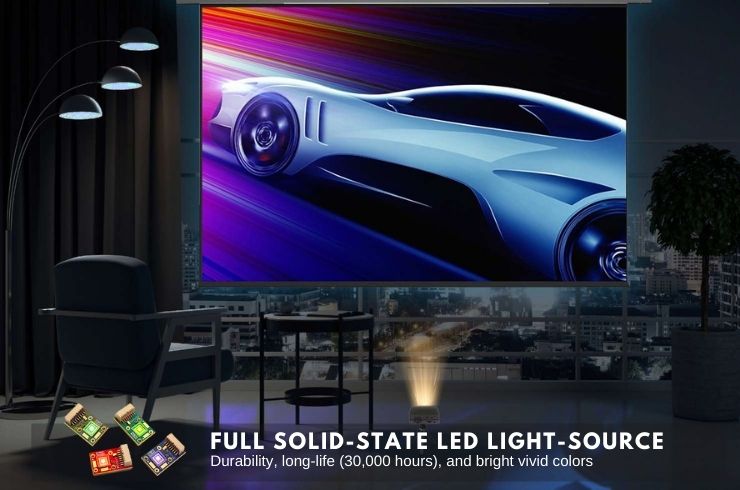 Solid State Light Source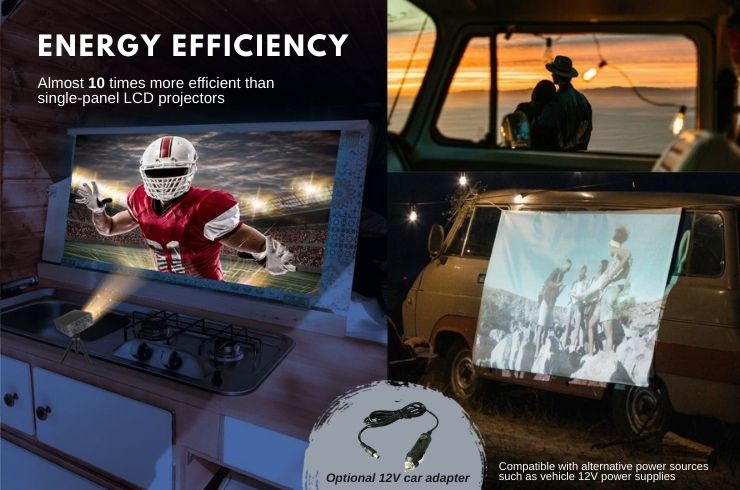 The AAXA P8 is highly energy-efficient operating at just 32 watts. At 12 volts the P8 can plug directly into any car's power adapter (adapter sold separately) making the P8 a great mini projector for #vanlife.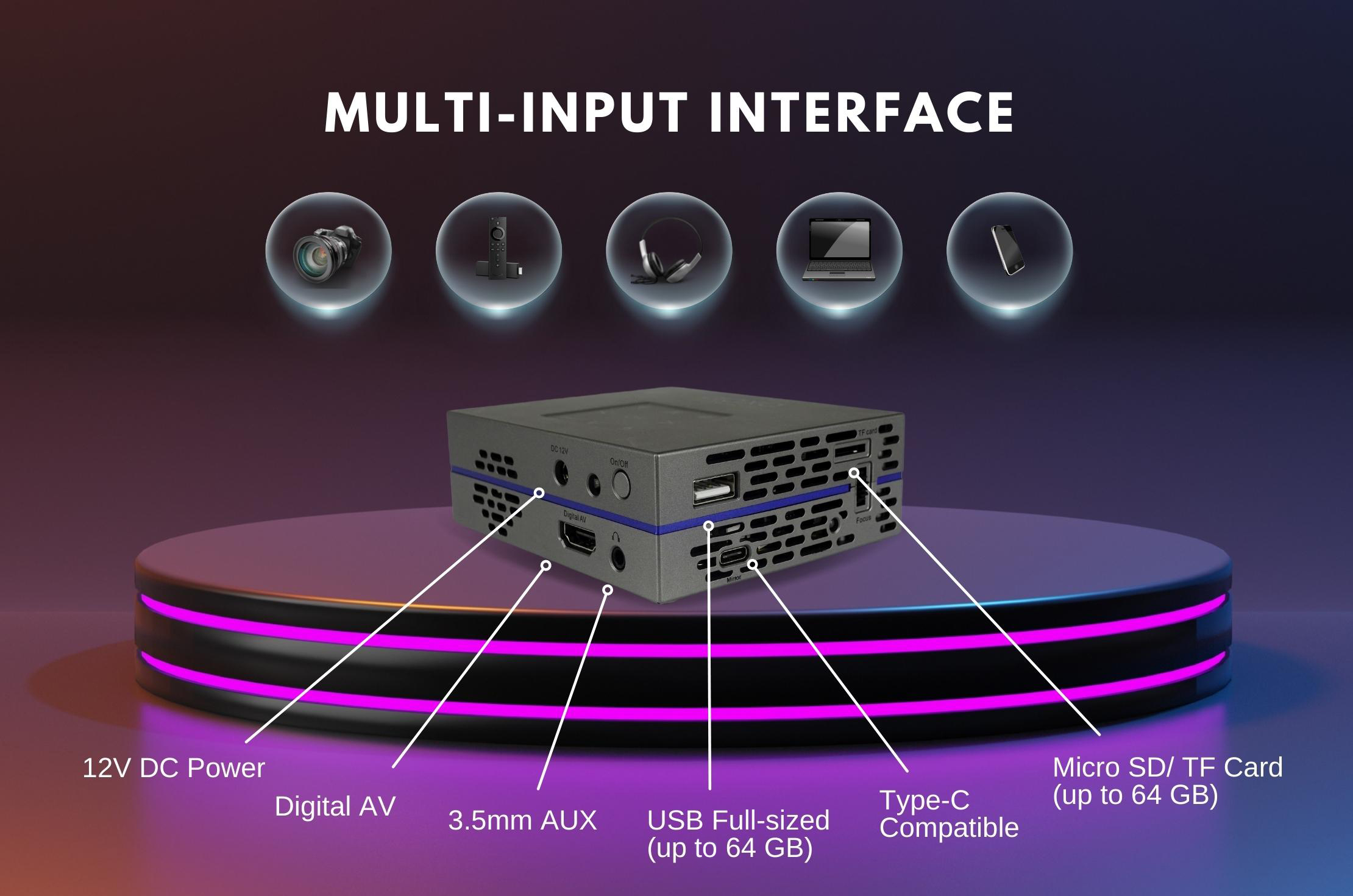 Multiple inputs on the P8 include a HDMI compatible input, a USB Type C compatible input, Micro SD/TF Card slot (up to 64GB), a Full sized USB port (up to 64GB) and a 3.5mm audio output.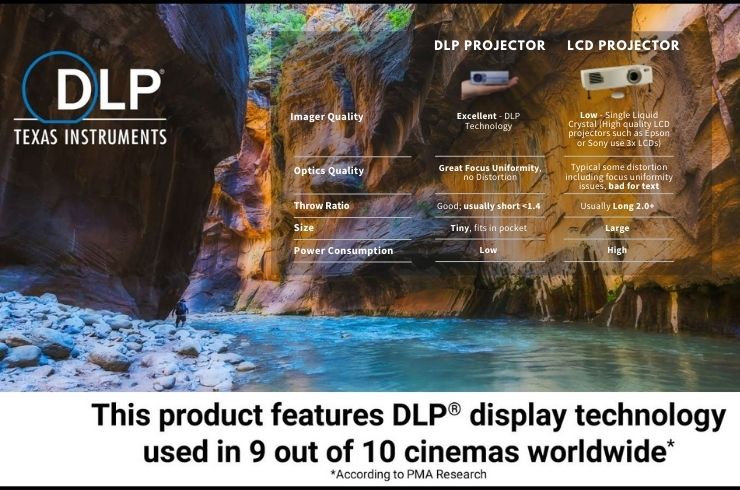 The P8 incorporates DLP technology; the same technology found in Cinemas. DLP Projectors deliver the highest quality color, brightness, contrast, picture quality, and DLP is the same technology found in movie theatres across the world! LCD Projectors product dull colors low contrast, and low brightness, LCD Projectors (single panel) can have focus dis-uniformity that causes low image quality.
---

Maximum Resolution:

1920x1080(1080P)

---

Native Resolution:

960x540 (qHD)

---

Brightness (Boost):

430 LED Lumens

---

Throw Ratio:

1.2:1

---

Contrast Ratio:

2000:1

---

Noise:

30dB

---

Projection Lens:

Manual Focus

---

Projection Image:

16 - 200 inches

---

Aspect Ratio:

16:9

---

Light Source:

Luminus 30,000 Hour LEDs

---


GENERAL SPECIFICATIONS

---

Operating System

Android 10.0

---

Audio Output

2W High-Low Frequency Speaker

---

Color:

Gray

---

File Playback:

USB Memory Stick reader (up to 64GB)
Micro SD/TF Card Reader (up to 64GB)

---

Menu Language:

English

---

Aspect Ratio Control:

16:9

---

Dimensions:

3.9 in X 3.4 in X 1.4 in

---

Weight:

0.6 lbs

---

Power Consumption:

52 Watts

---

Supported Formats

MP3 / WMA / OGG / WAV / AVI / MP4 / JPG / GIF/PDF / DOC / XLS / PPT

---

Conformances:

CE, FCC Class A

---


INPUTS / OUTPUTS



---

Video In:

HDMI (Compatible), 1080p

---

Maximum Video Input Resolution

1080p

---

Wireless Mirroring

Supports IOS, Android

---

Wired Mirroring

Supports most USBC Compatible

---

Bluetooth Option

4.0 Supported

---

Wireless (WiFi)

2.4 ghz / 5 ghz

---

---

USB:

Full Sized USB 2.0; Type C Compatible

---

USB Power Output:

5V 1A (5 Watts)

---

SD Card:

Micro TF Card

---

---

Audio Out:

3.5mm Stereo Headphone Jack

---

---

---


INCLUDED ACCESSORIES

---

In the Box:

Remote Control
Wall Charger
User Manual
Tripod

---


THROW RATIO (1.2:1)



---

Throw Distance (Inches)
Screen Diagonal (Inches)

---

 20

19

---

 30

29

---

 40

38

---

 50

48

---

 60

57

---

 70

67

---

 80

76

---

 90

86

---